Everyone loves looking at straight, white teeth because they are one of our most defining features. There are a lot of great options for patients that are either maintaining their perfect smile or are trying to get one. In this article we'll go into some detail about what each procedure does and how it can help you.
Bradley Matthew, DDS is a cosmetic dentist in the greater Los Angeles area who specializes in a number of procedures that can help everyone keep their smile looking bright, white, and right. If you're interested in a consultation about what South Bay Smiles can do for you, call (310) 670-0659 today.
Crowns & Veneers
Porcelain crowns and veneers are great options for patients who have cracked, crooked, or discolored teeth. Veneers are thin layers of porcelain that are placed directly on top of the teeth. A thin layer of enamel is removed from the front of the tooth and then the veneer is bonded in place over the tooth. Porcelain is strong, durable, difficult to stain, and can last a long time with the right type of care.
As opposed to veneers that go directly over the tooth, porcelain crowns are used when the root of the tooth is intact but the tooth has cracked or chipped. Crowns prevent further damage to weakened or decaying teeth, while being aesthetically pleasing.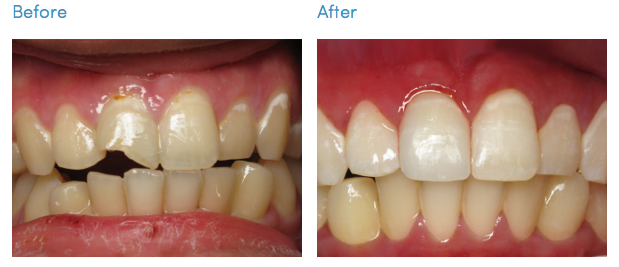 Dental Implants & Implant Restorations
Patients who are missing teeth cannot get veneers or crowns, but instead may be candidates for dental implants. Dental implants can be utilized to replace a single tooth, overdentures, or fix dentures. A consultation with an expert cosmetic dentist like Dr. Matthew, DDS, MICOI is important when determining the best procedure for your mouth. Dental implants offer a high level of stability because they're fused into the bone, but require the patient to have healthy gums and strong bones.
Dental Bonding
Dental bonding, or adhesive bonding, improves smiles by fixing small tooth imperfections like removing spaces, stains, fractures, lightening teeth, and treating teeth sensitivity. Dental bonding is not as durable as a veneer, but is an aesthetically pleasing way to quickly improve a patient's smile. Dr. Matthew, DDS, MICOI has helped a number of patients achieve a new smile because of his expert skill at dental bonding.
InvisAlign
InvisAlign is a great way to fix crooked teeth, underbites, overbites, and crossbites. It's similar to traditional braces in that it corrects misaligned teeth but doesn't require metal. Instead, InvisAlign uses clear, removable teeth aligners that are practically invisible. The entire system is custom made to conform to each individual's mouth, making the aligners much more comfortable alternatives to traditional braces. Schedule a consultation with Dr. Matthew, DDS, MICOI today to see if you would be a good fit for this incredible way to get your teeth straight.
Book An Appointment With Dr. Matthew, DDS, MICOI
Dr. Matthew, DDS, MICOI specializes in all of these cosmetic dentist procedures and has helped thousands become confident with their smile. Having crooked, chipped, or stained teeth can be embarrassing and can seriously effect a patient's quality of life. South Bay Smiles is located in Los Angeles and exists to help. Call us today at (310) 670-0659 to book your consultation to get your smile shining bright and straight.