At South Bay Smiles, cosmetic dentist Dr. Bradley Matthew, DDS, MICOI works hard to help patients achieve the smile of their dreams. Using veneers, teeth whitening treatments, dental implants, and more, Dr. Matthew, DDS, MICOI can provide patients with a brand new smile, simultaneously increasing their confidence and self-esteem.
Many individuals and patients are unsure of what differentiates cosmetic dentistry from general dentistry. Even though Dr. Matthew, DDS, MICOI is certified in general dentistry, he specializes in cosmetic dentistry, which affords him the ability to provide his patients with more options when dealing with their teeth! Learn more about Dr. Matthew by calling South Bay Smiles at (310) 670-0659 today!
What is Cosmetic Dentistry?
In most cases, a general dentist is mainly concerned with tooth care. Services offered by a general dentist include teeth cleanings, root canals, and general tooth repair. Cosmetic dentistry, on the other hand, is a subset of general dentistry that is focused on improving a patient's smile. In addition to providing all of the services of a general dentist, a cosmetic dentist is focused on improving the aesthetic appearance of the teeth, thereby providing patients a bright and beautiful smile that increases confidence!
Services Offered by Cosmetic Dentists
Cosmetic dentists like Dr. Matthew, DDS, MICOI employ many techniques and methods to help treat teeth that are discolored, cracked, misshapen, or even missing. Some of the procedures offered by Dr. Matthew include the following:
Teeth Whitening
Teeth whitening in a very important part of cosmetic dentistry. Everyone would love to have bright, white teeth, and the best way to accomplish this is by visiting a cosmetic dentist like Dr. Matthew, DDS, MICOI! Although patients can buy at-home teeth whitening treatment kits, the best and most effective way to improve the color the teeth is by visiting a cosmetic dentist. Dr. Matthew has access to BriteSmile, a revolutionary teeth whitening treatment that is not only more effective than whitening toothpastes or dental strips, but is safer and faster as well!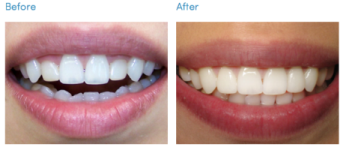 Veneers
Veneers are thin layers of porcelain that cover a tooth's surface. Porcelain veneers can be used to correct a number of dental issues, including, but not limited to, the following:
Tooth discoloration

Broken teeth

Gap teeth

Weakened teeth

Misshapen teeth
If a patient practices proper oral health care and hygiene after receiving veneers, he or she can expect the results to last for a long time, making veneers the perfect long-term solution for aesthetically unappealing teeth.
InvisAlign
InvisAlign is a fantastic way to correct crooked teeth or an underbite without the need for metal braces. InvisAlign uses a set of clear and removable aligners to gently correct and straighten teeth. Because the aligners are nearly invisible, patients don't have to feel self-conscious or embarrassed like they might with braces.
Dental Bonding
Dental bonding is a procedure in which tooth-colored resin is bonded to a patient's tooth, improving a patient's smile. The process is one of the easiest and least expensive cosmetic dental procedures, and is often used to repair decayed teeth, repair chipped teeth, or to close spaces between teeth.
Contact Marina del Rey Cosmetic Dentist Today
At South Bay Smiles, cosmetic dentist Dr. Matthew, DDS, MICOI is an expert in providing patients with a bright and gorgeous smile. If you would like to improve the aesthetic appearance of your teeth, please do not hesitate to call South Bay Smiles today at (310) 670-0659!