Westchester Porcelain Crowns & Veneers
Learn More About Our Cosmetic Dentistry
Age and lifestyle can affect our teeth, making them weak, dull, cracked, or misshapen. Porcelain veneers and porcelain crowns can be used to reshape and revamp your smile. West LA cosmetic dentist Dr. Bradley Matthew, DDS, MICOI, can completely re-form your smile and help you get the winning smile you desire—sometimes in only a matter of hours! Porcelain veneers are often used in smile makeovers, as they can make the shape of your teeth more even, close gaps, and give you a dazzling white smile. Dr. Matthew is an expert when it comes to creating veneers and crowns to fit your individual smile.
Dr. Matthew, DDS, MICOI, discusses when porcelain veneers can be the quickest and best option for patients.

Porcelain Veneers
What are veneers for teeth?
Porcelain veneers are a long-lasting way to correct aesthetic problems with your smile. Teeth veneers are placed over the front teeth only to cover crooked, cracked, discolored, or oddly-shaped teeth. Porcelain veneers are strong, durable, and difficult to stain. Veneers can be done relatively quickly; it only takes two to three office visits before you have a fantastic new smile.

Porcelain veneers are a great option for those looking to makeover their smile. Teeth veneers can last between 12-25 years with proper oral hygiene and bi-yearly visits to Dr. Matthew and the South Bay Smiles team. They are a long-term solution to correcting almost any smile.
In addition to placing dental veneers, Marina del Rey dentist Dr. Matthew does revisional work on veneers. He can replace old veneers, repair cracked veneers, and replace Lumineers.
How do I know if I'm a good candidate for dental veneers?
If you are unhappy with the shape or alignment of your teeth, or you have permanent tooth discoloration, you might be a good candidate for dental veneers.
Schedule a dental consultation with Dr. Matthew, DDS, MICOI, so he can examine your teeth and determine if you are a good candidate for veneers.
Porcelain Crowns
What are porcelain crowns?
Where veneers correct aesthetic problems, porcelain crowns correct both functional and aesthetic problems. Porcelain crowns provide strength and durability to weak, cracked, or damaged teeth. Age often plays a big factor in the deterioration of teeth. As the teeth become weaker, patients may experience pain and discomfort. When the root of the tooth is still intact but the surface is weak, a porcelain crown can be applied to provide a natural-looking and long-lasting solution.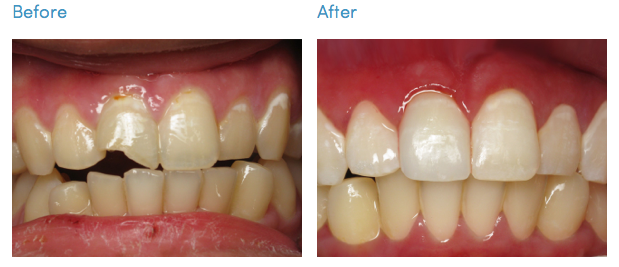 How do I know if I'm a good candidate for porcelain crowns?
If your teeth are structurally compromised and weakened from tooth decay, grinding your teeth, hard chewing, or tooth trauma, then dental crowns are necessary to prevent further damage.
If you have a tooth that is beginning to deteriorate, schedule a dental consultation with Dr. Matthew, DDS, MICOI, to learn more about the benefits of tooth crowns.
Dr. Matthew, DDS, MICOI, discusses when crowns are the best fit for an individual.
Frequently Asked Questions: Dental Veneer and Crown
Does Dr. Matthew, DDS, MICOI, use Lumineers?
No, Dr. Matthew doesn't use Lumineers for a few reasons. Lumineers often look and feel very bulky, which can be uncomfortable for patients. They often agitate the gums. In fact, many patients come to Dr. Matthew to replace their Lumineers with custom porcelain veneers.
What are the benefits of using porcelain for crowns and veneers over composite material?
Marina del Rey veneers dentist Dr. Matthew uses porcelain because it is stronger, which makes it less prone to chipping and staining, and it lasts longer than composite material. Porcelain material can last 12-25 years, where composite material lasts on average 4-8 years. Porcelain provides better functional and aesthetic results.
Will I have to change my oral hygiene routine after getting veneers or crowns?
You will continue to brush and floss as you normally would. Additionally, it is important to continue seeing Dr. Matthew for routine dental check-ups and cleanings.
Will my teeth be shaved down for veneers?
Yes, your teeth will be reduced slightly so that your new veneers will look and feel natural. If the teeth aren't shaved down, they will feel too bulky.
Should I be careful when eating with veneers?
Yes, those who have veneers should avoid biting into hard objects. It is advised not to bite into apples, nut shells, hard candy, etc., especially is a patient is wearing porcelain veneers. Los Angeles dental expert Dr. Matthew works hard to advise patients on the correct procedures regarding veneers.
Will I be put to sleep during the procedure?
No, you will not be put to sleep during the procedure. We do have nitrous oxide or can prescribe valium if you desire.
What are the differences between crowns and veneers?
Crowns can be used on all teeth and cover the entire tooth. They are also used to reinforce weak teeth. Veneers are used for aesthetic purposes and are only placed on the front teeth.
Are crowns covered by insurance?
In many cases, crowns are covered by insurance. Most dental insurance plans pay for a new crown every five years. For more information about porcelain crowns in Westchester, contact Dr. Matthew, DDS, MICOI, and his team of experts at South Bay Smiles.
How long will the dental crown last?
Crowns will typically last around 10 years.
Trust Our Team for Your Dental Needs
South Bay Smiles is a cosmetic dental office providing excellent and gentle aesthetic dentistry to clients throughout Southern California. Dr. Bradley Matthew, DDS, MICOI, is skilled in shaping and applying porcelain veneers and crowns, helping you get the smile you've been hoping for. We help people throughout Los Angeles, Santa Monica, Marina Del Rey, Venice, and the surrounding areas.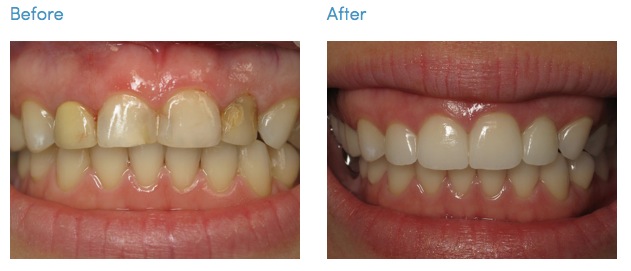 Contact Dr. Matthew, DDS, MICOI today to learn more about dental veneers! Los Angeles dentist Dr. Matthew, DDS, MICOI, is an expert in applying and treating patients with veneers. Call South Bay Smiles today at (310) 670-0659!