Westchester General Dentistry
Your Premier West Los Angeles General Dentist
South Bay Smiles is a dental practice that is committed to helping patients achieve optimal oral health through all facets of dentistry. In addition to offering the latest in cosmetic dentistry and orthodontics, South Bay Smile offers preventative and general dental care for patients and families. Preventative care means that we partner with our patients in the defense against common dental problems, including tooth decay, bad breath, and gum disease. Dr. Bradley Matthew, DDS, MICOI, and dental hygienist Deanna Rogers provide services related to the general maintenance of oral hygiene and overall tooth health. At South Bay Smiles, it is our goal to provide ongoing, regular support for your oral health.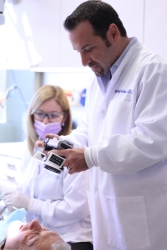 What to Expect From Our Westchester Cosmetic Dentist?
For any first-time patients in our office, a complete set of x-rays will be taken. Teeth cleanings are also available by our trusted dental hygienist, Deanna, a professional dedicated to your overall oral health. Deanna has been treating patients for over 18 years and is committed to making her patients feel as safe and comfortable as possible. We consider this dental hygiene session to be one of the most valuable services we offer to our patients.
Our dental hygiene services include:
Annual dental check-ups
Oral x-rays
Teeth cleanings
Fluoride treatments
During the course of your dental hygiene appointment, Dr. Matthew will identify any cavities, the most common dental issue. In the event that a cavity or other complication is present during the exam, Dr. Matthew is qualified to provide corrective treatment. If a cavity is caught in the early stages, cleaning out the decayed area with safe and effective instruments, and then replacing it with the proper filling can repair it. If the decay has spread too far, a root canal and crown application may be necessary to prevent the total loss of the tooth. If a tooth is too decayed for a crown, it's possible it may need to be extracted. If you have several teeth missing, Dr. Matthew can construct a bridge specifically to fit your mouth and facial structure. Cosmetic porcelain veneers and cosmetic dental bonding are two of his specialties.
Benefits of Regular Dental Checkups
By seeing South Bay dentist Dr. Matthew and his team on a regular basis, you have the advantage of working with a dental care provider who is familiar with your specific needs and is well informed of your dental history. Scheduling appointments regularly with Dr. Matthew means he will be able to quickly recognize any dental changes that may lead to future complications. Regular check-ups will not only help prevent gum disease but also identify cavities before they become problematic toothaches.
Your dental health is important. The American Dental Association (ADA) recommends that you make an appointment at least once every six months with your dentist for a routine check-up. Regular teeth cleanings, checkups, and oral health maintenance will prevent the development of serious dental issues that can be painful and costly to treat. If you maintain good dental habits and visit Dr. Matthew at South Bay Smiles regularly, you can enjoy exceptional dental health.
Frequently Asked Questions
What home care regimen do you recommend to maintain healthy teeth in between check-ups?
There are 5 things we tell our patients at South Bay Smiles they can do to maintain a healthy smile in between dental appointments:
ALWAYS remember to brush your teeth at least twice a day, and floss at least once!
Make sure to use toothpaste that contains fluoride, and ask Dr. Matthew if you need a fluoride rinse. This will help prevent cavities.
Avoid foods with a lot of sugar (sugar increases the amount of bacteria that grows in your mouth, causing more plaque and possibly cavities) and avoid tobacco (this can stain your teeth, cause gum disease, and eventually lead to oral cancer).
Don't be afraid to brush your tongue! By brushing your tongue, you will remove food particles and reduce the amount of plaque-causing bacteria. Tongue brushing also helps keep your breath fresh.
Be sure to schedule your routine checkup. It is recommended that you visit Dr. Matthew, DDS, MICOI, every six months.
I brush regularly, don't eat a lot of sweets or drink sodas, and floss on a regular basis—so why do I need to have a regular checkup every 6 months?
Dental problems can exist without you knowing. It's important for a board-certified dentist to examine your teeth to keep your teeth healthy and looking beautiful. In addition, you may benefit from other treatments such as whitening, fillings, and tooth-replacement options.
How often should I change my toothbrush?
We recommend you change your toothbrush every three months. If you are using an electric toothbrush, read the directions, as you may not need to change toothbrush heads as frequently. Patients with gum disease are encouraged to change your toothbrush every four to six weeks. If you've been sick, be sure to change your toothbrush as soon as possible.
What are common general dental procedures?
Dental Cleanings and Hygiene: A preventative measure routinely performed to remove plaque from the teeth, clean gums, and prevent cavities, gingivitis, periodontal disease.
Dental Fillings: Using specialized materials and techniques, we can restore the function, stability, and overall appearance of existing teeth.
Dental Implants: An artificial tooth that is anchored in the gums or jawbone to replace a missing tooth.
Crowns: Artificial tooth made of high-quality, natural tooth-colored porcelain material, which covers and protects a tooth or dental implant.
Bridges: A fixed partial denture, used in dental restoration to replace a missing tooth and connect the adjacent teeth or dental implants.
What if I have a toothache or dental emergency?
At South Bay Smiles, we can easily accommodate your dental emergency with a same-day visit. Dr. Matthew, DDS, MICOI, has extensive experience treating patients with dental emergencies and providing them with personalized care while utilizing the most innovative dental techniques and the latest procedures.
How does fluoride help prevent tooth decay?
There are three ways in which fluoride helps reverse and prevent tooth decay:
1. Promoting Tooth Remineralization - Acids can demineralize a tooth, creating a weak spot that develops into a cavity. Fluoride helps promote the opposite effect, called remineralization, which can reverse the beginning stages of tooth decay.
2. Helping Teeth Become More Resistant to Tooth Decay - Fluoride strengthens teeth, giving them natural protection against future cavities and tooth decay.
3. Inhibiting Oral Bacteria's Ability to Create Tooth-Attacking Acids - Fluoride disrupts bacteria's ability to metabolize sugars, a process that leads to the damage of tooth enamel.
If you would like to learn more about Dr. Matthew's general dentistry procedures or schedule an appointment, please call us at (310) 670-0659.