Westchester Dentist Dr. Matthew, DDS, MICOI Patient Reviews & Testimonials
---
---
"I had my first dental exam visit with Dr. Matthew, DDS, MICOI this past August and I was thoroughly impressed!!! From the moment I scheduled my appointment to the day of my appointment the staff was absolutely great. They were welcoming, attentive and made sure I was comfortable and addressed all my concerns and needs. I've had bad experiences in the past and this office has renewed my faith!!! I now look forward to going to the dentist!!!! :) Thank you Dr. Matthew and staff! You guys are the BEST!" Sochil F. (Yelp)
---
"Dr. Bradley Matthew, DDS, MICOI, DDS and his staff saved my teeth, my smile and my confidence! There are no words to express how compassionate, kind and understanding they are. I am not an easy patient, but honestly after my experience with Dr. Matthew, DDS, MICOI's expertise, care and understanding of what was the most important aspect of what needed to be done, with always being honest about what was possible in terms of maintaining and keeping teeth. The whole staff are like a family and it's a very comforting and reassuring experience. I simply cannot recommend this practice any higher, especially having experienced other dental practices that do not give the same kind of individualized personal care and attention. Dr. Matthew and his staff are especially considerate of patients like myself that feel (at a relatively young age) there is hope and a way to save your teeth. If you are a person that has some anxiety or concern, shame about your teeth, I highly recommend you call Dr.Matthew. His staff, Glenda, Dina, and Lorena are wonderful and will be happy to help you as they did for me." Kyra G. (Sherman Oaks, Yelp)
---
"Dr. Brad. Fixed my mouth. With a smile and minimal cost to me :)Thank you Dr. Brad. No more yukmouth." Brandon A.S. (LinkedIn 8/8/12)
---
"Dr. Bradley Matthew, DDS, MICOI has been my dentist for many years now and I cannot recommend him enough to my friends and coworkers. He is both professional and personable to all of his patients and makes your dental experience a calming and relaxing experience with his use of electronics and top of the line equipment. Dr. Matthew, DDS, MICOI is one of the most gentle dentists that I have ever been to and is truly a pleasure to go to for all dental procedures." Alyssa C. (LinkedIn 8/3/12)
---
"Dr. Matthew, DDS, MICOI is hands down the best dentist in the greater Los Angeles area. His practice at South Bay Smiles is a must-choose for anyone looking for high-quality dental work. For decades I've feared going to the dentist, however, Dr. Matthew and his awesome team always make me feel comfortable and in good hands! A+++++" Tom L. (LinkedIn 6/15/12)
---
"Dr Brad is a great dentist. He runs a tight ship where I didn't have to sit in the waiting room too long. He was thorough with his checkup and cleaning and when I left his office, my teeth had that smooth clean. Which reminds me that I have to have a checkup soon." Hill C. (LinkedIn 5/5/12)
---
"Bradley is a true professional! He is great at his work and treats everyone he meets with the highest level of respect." Joel E.C. (LinkedIn 5/2/12)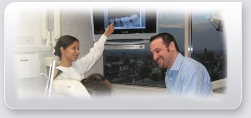 "Dr. Matthew, DDS, MICOI is an amazing family dentist. He and his staff are always accessible and they take great pride in practicing cutting edge dentistry, while still remaining friendly and affordable. His office is always pleasant, entertaining, and they're always on time. He's the only dentist I'd trust my smile to." Stacy B. (LinkedIn 5/1/12)
---
"Bradley is a one-of-a-kind dentist with exceptional skills and a top-notch staff of talented hygienists and service providers - I have been going to see him since he opened his doors and have never been disappointed. South Bay Smiles is an affordable and welcome alternative to other Westside dentists that provide less but cost more and I cannot recommend them highly enough." Dan K. (LinkedIn 4/9/12)
---
"Dr. Matthew, DDS, MICOI is an excellent dentist who consistently provides the highest level of dental care. He also has a great personality which makes it fun to go to the dentist! I have the highest regard for him and would recommend Dr. Matthew to everybody." Seth S. (LinkedIn 3/27/12)
---
"My wife and I were anxious about our sons first visit to the Dentist. Dr. Mathew was great, not only professional but gentle and good humored! Highly recomended." Sebastien D. (LinkedIn 3/1/12)
---
"Dr. Brad Matthew is an excellent dentist who is passionate about his dental career. He is constantly taking continuing education courses to keep at the cutting edge of the profession. As a fellow dentist, I can recommend him and his work without reservation." Tom S. (LinkedIn 2/25/12)
---
"I have been going to Dr. Matthew, DDS, MICOI's office for many years. He and his staff are excellent and very knowledgable. They keep my teeth healthy (and they know when I am not keeping up on my twice daily dental hygiene). I highly recommend Dr. Matthew and the folks at South Bay Smiles to care for your teeth. They do a great job for me." Jason F. (LinkedIn 2/19/12)
---
"Brad has an incredible ability to make you feel comfortable and at ease. My son had his very first experience at the dentist with him. Brad was able to do a thorough check while keeping Griffin engaged and happy! I highly recommend Brad!" Courtney D. (LinkedIn 2/11/12)
---
"Dr. Matthew, DDS, MICOI is one of the most friendly and compassionate dentists I have ever worked with. His focus on patient satisfaction is incredible. I have had the pleasure of meeting many of his happy patients, who not only have beautiful smiles (check out some of his before/after pictures!!) but also have the nicest feedback regarding his bedside manner. The staff at South Bay Smiles if very accommodating and the office space is beautiful (you have a great view while getting your teeth cleaned). Overall I highly recommend Dr. Matthew for any general or cosmetic dentistry needs." Risa L. (LinkedIn 1/27/12)
---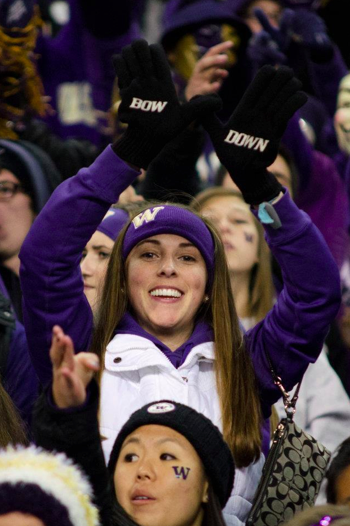 I just wanted to email you and say thank you for my beautiful smile! You and your amazing staff worked so hard over the summer and made me feel so much more conformable with my smile. My junior year at the University of Washington has been spectacular and the enormous amount of confidence I have shines through. I just wanted to send you this fun picture shot by one of the professional photographers at our Husky football game. He picked me out from the crowd and I say it's because of my beautiful sparkly white smile! Thank you again Dr. Matthew, DDS, MICOI! Sincerely, Lauren I.
---
Great dentist! He's honest, friendly, on-time, and knows what he is doing. I am always comfortable in the chair, the office is very clean, the staff is very friendly, and Deanna is the best hygienist ever! I only wish my insurance would cover a higher percentage of the treatments. Emily V. (Yelp.com 8/9/2011)
---
WOW! Free Bleaching. My teeth have never looked so good. Office was state of the art and the staff was wonderful. Even watched a movie while Dr Matthew worked on me. I would highly recommend this practice to anyone. Christine (Yelp.com 8/30/2011)
---
I have nothing but positive things to say about Dr. Matthew, DDS, MICOI and South Bay Smiles. The office is very clean, the staff very professional and you are always taken in a timely matter. I have been going to Dr. Matthew now for over 5 years and have always had a good experience. He is very thorough and honest with his diagnosis and I have never felt like I was being charged for work I didn't need which is important to me. Whether it be a cleaning, x-ray, filling, or other work done, I have always been satisfied with the care Dr. Matthew and his staff have provided me. In addition, there are little perks like flat screen televisions in each room, an extensive movie library, and validated parking which makes the visit to the dentist more enjoyable. I would definitely recommend Dr. Matthew and South Bay Smiles to anyone looking for a new dentist! Eric B. (Yelp.com 3/8/11)
---
Dr. Matthew, DDS, MICOI strives to make all of his patients feel relaxed, comfortable and feel good at the dentist.
Dr. Brad is ace in my book! My crown replacement was painless and worry-free. Their facility is state of the art, and very clean. The staff is warm and welcoming and I always feel comfortable going to his office, whether it be for standard cleaning, or for any major dental work. The cost was a matter of my insurance approving their portion, but Dr. Brad's office handled it all for me. He comes very highly recommended! (DoctorOogle.com 4/11/12)
---
I have had the best experiences with Dr. Matthew, DDS, MICOI and I am the BIGGEST DDS chicken on earth! He & staff were wonderful, sensitive, thorough, and did/do great work! He had to fix what another DDS messed up and I have nothing but the highest praise for him! I originally came to the office for Deanna the hygienist! She is awesome, funny, fast, and thorough...love her! (DoctorOogle.com 12/27/11)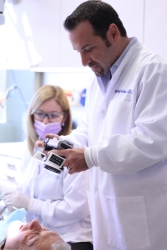 ---
Dr. Matthew, DDS, MICOI is possibly the best dentist I've ever found, and I've been to MANY over the last 35 years. He is skillful and does excellent work. He's very focused when he's working on my mouth and obviously interested in doing his best. He listens closely to questions and answers with a lot of good information. His office is up to date with modern technology, and he does not oversell and push for unnecessary procedures. His dental hygienist Deanna is also very good and really knows what she's doing. She's more thorough than any other hygienist I've been to. She also answered all of my questions with lots of information. His office staff is very friendly and they too are happy to answer every question I've had. I don't have dental insurance, and I found Dr. Matthew was always willing to work with me on payments. This website won't let me rate his Cost as Extremely Cheap, but for cleanings, digital x-rays, and having all of my silver fillings replaced with composites, he always gave a competitive price. I had to drive out of my way every time I went to see Dr. Matthew, and it was ALWAYS worth it. If any dentist truly deserves a 4 or even 5 star review, this is the man! (DoctorOogle.com 7/29/10)
---
Dr. Matthew, DDS, MICOI is the most gentle and efficient (speed with excellence) dentist I have ever had. He has done my root canals, treated dead teeth (ugh!), done fillings, repaired crowns, replaced silver and other things that my teeth have needed. No pain, no dread going there. I feel like family at Dr. Matthew's office. My husband and adult son go to him too. Gentle touch, pleasant office atmosphere, awesome staff. What more could you want from a dental office!? Deanna is amazing. Even though she has a metal tool and is "scraping" my teeth, it is a pleasant experience! She is soooo gentle. Her friendly manner keeps me relaxed. She is super careful if I tell her I have a sensitive area. After, my teeth feel clean and fresh. AND she always gives me this cute little package of supplies. Thanks Deanna. (DoctorOogle.com 5/12/10)
--
This is the best dentist on earth! I'm very afraid of sharp metal objects in my skull. Who isn't? And I have sensitive gums. And it's an intimate thing having someone all up in your mouth business like that!! I went through 10 dentists before I arrived at this one. The vigilant search was driven by fear, which is totally crazy, but so glad I finally found this office. The hygienist and the dentist are both wonderful people who really know how to ease the pain and get the job done right. Couldn't recommend it any higher! (Doctor Oogle.com 3/31/10)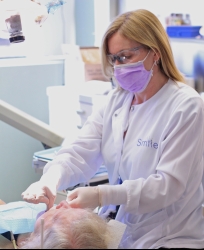 --
I lost my front tooth and went to see Dr. Matthews, DDS, MICOI. He recommended to have an implant. The final results were remarkable! I would have never thought it could look sooo natural. He is the best. Deanna, the hygienist, is very gentle and very professional. (DoctorOogle.com 4/20/10)
--
In the past I had a horrible experience with the dentist. I had to get three root canals done that were not even necessary. I then came to Dr. Matthew, DDS, MICOI scared but in need of help. I'm not the kind of guy that would wright a review but this man deserves to be recognized. He saved my teeth and my anxiety. He is extremely gentle, not to mention a perfectionist. This guy is pretty honest and just wants his patients to walk out happy. Well, he did it for me. Thank you Dr. Matthew. Not to mention the staff is AMAZING!!!!

The hygienists has a gentle touch and pretty thorough. I give her an A. She also a great singer. Haha (DoctorOogle.com 4/12/10)

Contact Dr. Matthew, DDS, MICOI for your dental appointment at our West LA office today!